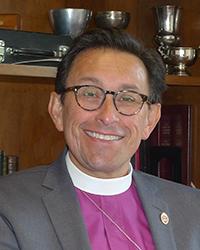 On Monday, October 24th, Evening Prayer will be sung and read at St. Paul's, Elkin's Park as a part of the pilgrimage our new bishop, The Right Reverend Daniel Gutierrez, is making around the diocese.
St. Paul's Episcopal Church is a historic Episcopal church at Old York and Ashbourne Roads in Elkins Park, Cheltenham Township, Montgomery County, Pennsylvania. It was originally built in 1861, and is a gray stone church in the Gothic style.
Address: 7809 Old York Rd, Elkins Park, PA 19027
The Rev. Canon Daniel G. P. Gutierrez, canon to the ordinary in the Episcopal Diocese of the Rio Grande, was elected March 12 to be the bishop of the Episcopal Diocese of Pennsylvania. Gutierrez was ordained and consecrated July 16 at New Covenant Church in the Germantown.